Culture and History
Lingnan culture is an integral part of splendid Chinese culture. Excavated objects from Lingnan ancient sites indicated that Lingnan culture is native culture. With agriculture and marine expedition at its core, Lingnan culture has constantly drawn strength from Central Plains culture and foreign culture. As a result, Lingnan culture presents such characteristics as pragmatism, openness, innovation and accommodation.
According to geographical locations, Lingnan culture can be divided into Guangdong culture, Guangxi culture and Hainan culture. As the centerpiece of Lingnan culture, Guangdong culture consists of Cantonese, Chaoshan and Hakka cultures.
As the center of Cantonese culture, Guangzhou has a 4000-year civilization that can trace its roots to the Neolithic period. As a result of the intermingling of ethnic minority cultures, Han culture and foreign cultures, Cantonese culture is famous for its diversity and vitality.
As indicated by archaeological relics and historic sites, humanism, pragmatism, enterprise and innovation are major elements of Cantonese culture. These cultural elements often find their expression in architecture, customs, gardening, business, religion and other forms of art. The rich connotations, diversity and uniqueness of Cantonese culture are reflected in languages, music, operas, calligraphy, painting, poems, architecture, bonsai, handicraft, folk customs and cuisines.
● Artists Association of Guangdong
● Lingnan Impression Garden
● Qilou Street
● Shixiang Garden
● Xiguan Ancient Houses
● Artists Association of Guangdong
Enning Lu is called "the Street of Cantonese Opera", because a legendary building sits here, which is extremely familiar and appealing to many overseas Chinese.
As one of the local operas in Guangdong, Cantonese Opera (sung in Cantonese) is very popular among Cantonese-speaking people and overseas Chinese. The opera enjoys a good reputation of being "Southern Red Bean". In 2009, Cantonese Opera was listed as a world intangible cultural heritage.
Originally established in Foshan, the Artists Association of Guangdong was a gathering place for Cantonese Opera artists. However, the building in Foshan was razed to the ground by the Qing government in 1854. In 1889, Cantonese Opera artists purchased a plot of land in Huangsha to construct a mansion with a holding capacity of some one thousand people. Thus was born the new Artists Association of Guangdong. Since then, Huangsha, the originally little known region in Guangzhou had seen its reputation rise dramatically. As time passed, Huangsha became a prosperous and bustling scenic spot in Guangzhou.
In 1937, under the intense bombardment by Japanese fighter jets, the mansion in Huangsha was destroyed. In 1946, the second year after the anti-Japanese war ended, the Artists Association of Guangdong was rebuilt in Enning Lu. Though not as magnificent as its predecessor in Huangsha, the new association is still a magnet for thousands of Cantonese Opera artists. Opera posters are put on its walls, together with photos of Cantonese Opera stars from Guangdong and Hong Kong.
The Artists Association of Guangdong has branches in many countries of the world. It is said that where there are Cantonese-speaking Chinese, there are branches of the association. With its profound historical and cultural implications, the Artists Association of Guangdong enjoys high stature as the birthplace of Cantonese Opera.
※ Address: No. 177, Enning Lu, Liwan District.
※ Opening Time: Every Morning
※ Ticket Price: Free of Charge
※ Transportation:
· Metro: take Metro Line 1 to Changshou Lu
· Bus: take the No. 66 or No. 82 buses to Enning Lu Station.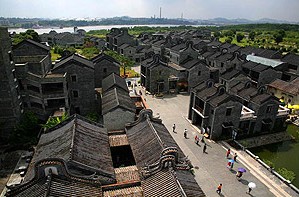 Located in the south of Guangzhou University Mega Center, Lingnan Impression Garden covers a total area of 165 hectares. The garden is a tourism resort of sight-seeing, leisure, recreation, catering, shopping and Lingnan customs and folk culture.
Lingnan Impression Garden features distinctive houses, streets, clan temples and stores, all of which fully embody the essence of Lingnan traditional culture. Here, replicas of Lingnan-style buildings reincarnate the prosperous life of local people, The garden is a window on Lingnan architectural style, profound folk culture and idyllic rural landscape. Local citizens can find the traces of Lingnan history in this tourism resort, while tourists from other parts of China can deepen their knowledge of the thousand-year Lingnan culture.
Typical Lingnan Architectural Complexes: Residential buildings are constructed alongside rivers, with small doors and high walls. Major attractions of the garden include: unsophisticated albatron lanes, magnificent oyster-shell walls, delicate Manchurian windows, winding streams and crystal-clear ponds.
Guangdong Intangible Cultural Heritages: Through demonstrations by art and handicraft masters, you can vividly feel the appeals of Guangdong intangible cultural heritages, such as Cantonese embroidery, pearl embroidery, color porcelain, woodcarving, olive-kernel carving, ivory carving, stone carving, tile carving, Cantonese Opera, Zhaoqing ink stone, Foshan paper cutting, Foshan porcelain and Huang Zhenglong century-old herbal drinks store. Apart from sight-seeing, you can also learn a thing or two from folk handicraft masters.
Nostalgia Articles and Activities: tin toys, comic books, hoop rolling, gyroscopes, sandbag throwing, marble playing, zoetropes,rugby air-crafts, boat slides, Xiguan clogs, dough figures, ocarina, straw plaiting articles, paper cutting, rice cakes, hand weaving and Cantonese herbal drinks. All of these articles and activities are bound to amaze and delight you. There are also replicas of old police stations, government offices, newspaper offices, money houses and old theaters.
Here, you can also have a taste of local delicacies, such as Teng Jai Jook, or Sampan Congee, Good-luck Porridge (porridge mixed with assorted pork organs), Wonton Noodles and Bamboo Noodles (Noodles Thrashed by a Bamboo Stick). Cantonese-style tea and cakes are supplied in Lianxi Tea House. In addition, all Cantonese souvenirs that you may think of can be found in the garden.
Traditional Festive Events: dragon and lion dances, dragon boat races, Polo roosters and bun scrambling. Traditional wedding ceremonies, Lufeng Shadow Shows and Lingnan Juggling are performed every day.
※ Transportation:
·Self-driving routes: drive along Nansha Expressway and exit from University Center Tolling Station.
·Metro: take Line 4 to University Center South Station; take Exit B, walk fifteen minutes to the ticket office of Lingnan Impression Garden, (On Saturdays and Sundays, shuttle buses to the ticket office are available outside Exit B of University Center South Station.
·Bus: take the following bus lines: Express Line (from Guangzhou South Railway Station to University Center Campus of Guangdong University of Technology), No. 86 and N0. 310 to University Center Campus of Guangdong University of Technology; walk about ten minutes and you will reach Lingnan Impression Garden.
※ Ticket Prices:
Full-price ticket: 45 yuan per person
Half-price ticket: 25 yuan per person
>> For more details please visit the official website of Lingnan Impression Garden : www.lnyxy.com (in Chinese)
Qilou architectural complexes originated from ancient Greece some two thousand years ago. Later on, this architectural style spread to the entire Europe and other parts of the world.
Qilou buildings are corridors with wooden ceilings, usually built in commercial districts. Ranging from several hundred to two thousand meters in length, Qilou buildings provide shelter to passengers from the scorching sun and rainfalls. As a result, it is most fitting to construct Qilou buildings in South China, a region with a humid monsoon climate. Qilou architecture represents a blend of culture from the East and the West. Most qilou buildings provide both residential and business space. It is said that the weather in Guangzhou is as unpredictable and changeable as emotional babies. It was because Qilou buildings provide shelter from rainy and even stormy weather that these inviting and customer-friendly buildings spread throughout the city. Gradually, such Qilou buildings became part of the city landscape. Diverse in styles and well-preserved, Qilou buildings in Guangzhou enjoy a high reputation than those in other Cantonese-speaking cities.
Since 1840, the year of the Opium War, architecture in Guangzhou has undergone three periods, namely, the importation of Western architectural styles, the revival of traditional architecture and the importation of modern architecture. As a result of a blend of architectural culture from the East and the West, Western architecture has been adapted into the following styles:
• Religious buildings represented by Catholic Sacred Heart Church
• Public buildings such as Guangzhou Postal Authority Building, Guangdong Customs House, the City Hall, Provincial Department of Finance Building and Provincial Federation of Trade Unions Building.
• Residential buildings such as Xiguan Ancient House, Bamboo House, Dongshan Garden House and Western-Style buildings.
• Commemorative buildings represented by Sun Yat-sen Memorial Hall and Seafarers Pavilion.
• Commercial Qilou buildings such as Aiqun Building, South Building, City Bank Building, Provincial Bank Building and New Asia Hotel.
Qilou buildings are concentrated on Shangxiajiu Lu, Zhongshan Lu, Jiefang Lu, Renmin Nanlu, Yide Lu and other commercial streets. Most eye-catching are those in Xihao Kou, including New Asia Hotel, Nanfang Building and Aiqun Building. Since the 1960s, Qilou buildings have been rarely built in new commercial districts.
As the birthplace of Lingnan School of Painting, the famous Shixiang Garden has cultivated Gao Jianfu, Chen Shuren and other first-rate painters. The Lingnan Painting School, founded by Gao Jianfu and Chen Shuren, is one of the most brilliant branches of Lingnan culture.
Located in Huaide Dajie of Jiangnan Dadao Zhong in Haizhu District, Shixiang Garden was first established in 1856. It was a residential garden where Ju Lian and Ju Cao, two famous flower-bird painters of the Qing Dynasty taught their students. It is said that the two painters grew ten kinds of fragrant flowers in the garden: yellow jasmine, winter daphne, evening primrose, cytisine, jasmine, lilium longiflorum, Zhulan tree, Chloranthus elatior, white orchid and banana shrub. Thus, the garden is called "Shixiang Garden" ("xiang" in Cantonese means "fragrant"). Shixiang Garden has brought up a host of famous painters, most notably Gao Jiaofu and Chen Shuren, who were apprenticed by Ju Lian and Ju Cao.
Lingnan School of Painting first emerged in the late 19th century, a product of foreign cultural importation to China. Painters of this school observe the principle of "combining Chinese style with Western style", believing that painting skills from the West should be applied to traditional Chinese paintings. Such fresh painting philosophies injected life into traditional Chinese paintings whose popularity among the public had gradually faded at the time. The school, at its birth, has been revolutionary in nature. As an important art school in China, it is regarded as one of the "Three Treasures of Lingnan"(the other two being Cantonese Opera and Cantonese Music).
※ Address:
No. 3, Huaide Dajie, Jiangnan Dadao Zhong, Haizhu District.
※ Transportation:
·Metro: take Line 2 to Jiangnan Xi Station;
·Bus: take the following bus lines to Jiangnan Xilu or Huahai Building: No. 186, 220, 273, 29, 53, 59, 13, 25, 44, 82, 125, 125A, 180, 188, 190, 192, 221, 222, 253, 299, 544, 551 and University Town Line 3.
As Hutong in Beijing and Linong (small lanes and alleys) in Shanghai, Xiguan houses are very representational of local traditional architectural styles.
Built by wealthy businessmen in Xiguanjiao (referring to Liwan District), the west side of Guangzhou in the late Qing Dynasty, Xiguan houses are residential houses of typical Lingnan style.
Xiguan was already the commercial center of Guangzhou in the Ming Dynasty, while Shibapu (literally meaning eighteen blocks) also emerged in the Ming Dynasty. Xiguanjiao took shape during the reign of Tongci and Guangxu emperors in the Qing Dynasty, covering Wenchang Bridge, Daguan Bridge, Pantang and Changhua Garden. Xiguan houses were originally concentrated in Baohua Lu, Duobao Lu, Baoyuan Lu and Fengyuan Lu. Later on, new houses were built by wealthy businessmen and bureaucrats in other areas of Xiguan.
Xiguan houses present the following three characteristics: first, the facade of a Xiguan house is generally built with grey bricks; second, the main wooden door is accompanied by a Tanglong (horizontal wooden bars); third, "Manchurian windows" are used, which feature colorful patterns and paintings.
With symmetrical structures, clean windows and delicate gardening designs, Xiguan houses present an elegant nature. Originally, Xiguan was sparsely populated with picturesque outskirts scenery. However, as "Sup Sam Hung" (a cluster of foreign trade associations) emerged, many businessmen moved to Xiguan to enjoy the high-quality life. As a result, Xiguan houses were built with intensive care. Ever since, the population of Xiguan had skyrocketed.
Small Barge Studio: First established in Lizhiwan in 1902, the studio is a garden-style Xiguan house. Buildings were built on the periphery, surrounding a garden in the center. Overgrown with lush trees and flowers, the garden-style studio is a representative Lingnan building.
It may take one or two days to finish a trip to major Xiguan houses, since they are scattered and hidden in winding lanes. You are highly advised to take Metro Line 1 to Changshou Lu. Walk southward and you will see the fifteenth block and sixteenth block (parts of the Eighteen Blocks). If you walk towards the northeast, you will come to Xiguan house complexes in Yaohua Dajie. Walk northwest, and you will reach the Xiguan house complexes in Dabao Lu and Fengyuan Lu. A range of old houses along Duobao Lu are also worth visiting. Having completed a tour around major Xiguan house complexes and having had a taste of local delicacies, you can visit the tenth block and Shangxiajiu where century-old stores and time-honored restaurants are scattered. Have a delicious meal in one of those traditional restaurants.
Except Xiguan Folk House, you can enter all Xiguan houses free of charge. However, get prepared to be denied entry by the owners. You are advised to take a stroll around granite lanes, where you can see local citizens play chess, cards and mahjong. This is a scene that cannot be found in other parts of Guangzhou.
Xiguan Folk House: Built inside Liwan Museum, Xiguan Folk House constitutes a very important house in Xiguan. It was originally the residence of Chen Lianzhong, a English businessman working in the HSBC during the Republic of China. The house is a three-storey Western-style villa. Treasure trees are planted inside the house, while rock works, pavilions and ponds give the house a Chinese cultural touch. Cantonese-style furniture is exhibited in the house, while exhibitions of Xiguan folk customs, wedding ceremonies and seasonal customs are frequently staged. A visit to the house will certainly help you get a holistic picture of Xiguan lifestyle and culture.
Last but not least, do not forget to take with you a map of Guangzhou streets in case of getting lost in the labyrinth-like lanes.
All materials marked with "source: English.gz.gov.cn" on this website (including but not limited to text, photographs, audio and video materials) are the copyrighted property of Guangzhou International (the official website of Guangzhou Municipality). Without prior authorization from Guangzhou International, any media, website, organization or individual shall not transmit, interlink, distribute or republish such materials in any form. Any media and website authorized to republish such materials shall mark them with "source: Guangzhou International (English.gz.gov.cn)". Infringement of these copyrights will result in legal action.