Latest Updates on the 144 Key Sites and Residences Visited by COVID-19 Infected People
Update: 2021-06-09 Source: Guangzhou Foreign Affairs Office
The Guangzhou Municipal Health Commission has just issued the Notice on the Key Sites and Residences Recently Visited by COVID-19 Infected People.
Every citizen is reminded that if you have recently visited high or medium-risk areas, gone to previously announced key sites, were in contact with COVID-19 positive people, or interacted with their close contacts, you must report to your Neighborhood Committee or your employer; you must go to a nearby testing point for a nucleic acid detection test immediately. You should be tested for two nucleic acid detections with in three days and fully cooperate with officials who perform your epidemiological survey.
Guangzhou Municipal Health Commission reported that there are a total of 98 confirmed local Covid-19 cases (14 are asymptomatic cases) in Guangzhou from May 21st to 24:00 June 6th. At the moment, all the above cases are under treatment and quarantine at the Guangzhou No.8 People's Hospital.
Their residential areas and the places they had visited have been disinfected. (The list of places involved is attached.)
Key sites and residences visited by confirmed COVID-19 patients and infected persons in Guangzhou since May 21st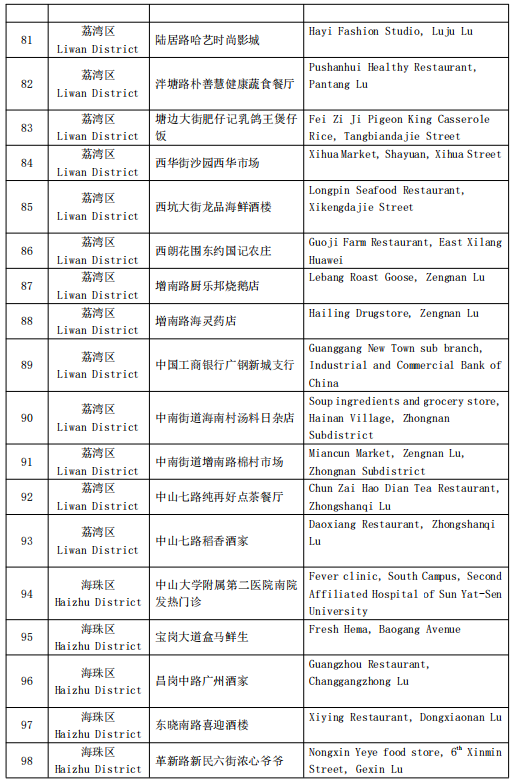 Reminder by the Municipal Health Commission:
An epidemiological is an indispensable part of epidemic prevention and control. As stated in, into the Law of the People's Republic of China on the Prevention and Treatment of Infectious Diseases and Regulations on Preparedness for and Response to Emergent Public Health Hazards, "An epidemiological investigation is carried out by epidemiological professionals in accordance with laws and regulations. They need to communicate with patients and related people on a face-to-face basis to learn their exposure, contact history, activity tracks, medical treatment, etc. before and after infection, and find clues related to the source of infection and routes of transmission, so as to inform the determination of discover their actual close contacts , take measures to properly isolate them, and accurately, determinine determine the area to be disinfected."
In light of the importance of an epidemiological investigation, it is a legal obligation for citizens to cooperate with and support it. Citizens are obliged to provide true and detailed information to the investigation staff. According to Article 12 of the Law of the People's Republic of China on the Prevention and Treatment of Infectious Diseases, any unit or individual within the territory of the People's Republic of China must respond to inquiries by disease prevention and control institutions and medical institutions on infectious diseases and accept their examinations, sample collection, isolation treatment and other prevention and control measures; they must truthfully provide relevant information.
Failure to cooperate with an epidemiological investigation might result in corresponding legal responsibilities and consequences. According to Article 51 of theRegulations on Preparedness for and Response to Emergent Public Health Hazardsby the State Council, if any individual concerned fails to cooperate with an epidemiological investigation, and allegedly refuses to implement the decisions or orders issued by the people's government in accordance with the law in an emergency, obstructs the staff of health or medical institutions from performing inspections, isolation, or treatment measures in accordance with the law to prevent and control the epidemic, the public security organization has the right to impose a fine or detention according to Article 50 of the Regulations of the People's Republic of China on Administrative Penalties for Public Security. If such act is serious as to constitut a crime of a hindrance with public affairs or a crime of obstruction of the prevention and control of infectious diseases, these criminal liabilities shall be investigated according to Criminal Law.
All materials marked with "source: English.gz.gov.cn" on this website (including but not limited to text, photographs, audio and video materials) are the copyrighted property of Guangzhou International (the official website of Guangzhou Municipality). Without prior authorization from Guangzhou International, any media, website, organization or individual shall not transmit, interlink, distribute or republish such materials in any form. Any media and website authorized to republish such materials shall mark them with "source: Guangzhou International (English.gz.gov.cn)". Infringement of these copyrights will result in legal action.