New Central Axis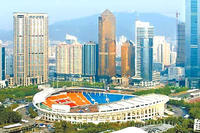 Established in 1987, Tianhe Sports Center is located in the financial and commercial area of Guangzhou (the eastern part of downtown Guangzhou). Covering a total area of 510,000 square meters, it is the largest sports complex in Guangzhou.
Originally, Tianhe Sports Center consisted of a stadium, a gymnasium and a natatorium. After the Sixth National Games, a host of venues and facilities for sports events and mass exercises were added to it, including a baseball field, a tennis court, a bowling alley, a croquet court, an indoor karting facility, an outdoor swimming pool and a body-building center.
Tianhe Sports Center was fully opened to the public in 1995. Since then, the first fitness path in China has been built in it, together with a forest dance floor, an outdoor badminton court, a table tennis area, a children center, a fitness area, a basketball club and other facilities for mass exercises. Featuring green surroundings and a sub-tropical garden setting, Tianhe Sports Center constitutes a garden-style sports park. Now it has been developed into a multifunctional sports complex that integrates fitness, recreation, leisure and exhibition. As a result, it is a prime choice for sports event, mass sports activities and exhibitions.
Tianhe Sports Center has evolved into a symbol of Guangzhou's architectural achievements. Listed as a window of Guangzhou, this spectacular sports complex is a bright spot along the new central axis of Guangzhou.
All materials marked with "source: English.gz.gov.cn" on this website (including but not limited to text, photographs, audio and video materials) are the copyrighted property of Guangzhou International (the official website of Guangzhou Municipality). Without prior authorization from Guangzhou International, any media, website, organization or individual shall not transmit, interlink, distribute or republish such materials in any form. Any media and website authorized to republish such materials shall mark them with "source: Guangzhou International (English.gz.gov.cn)". Infringement of these copyrights will result in legal action.