Skill Demonstration and Contest at Dragon Boat Festival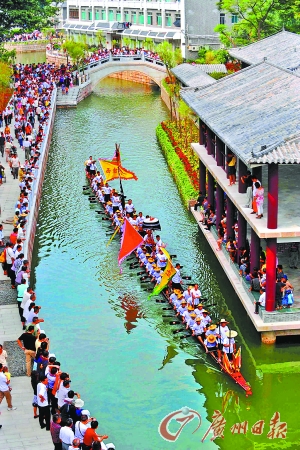 At the Dragon Boat Festival, dragon boat races are held in all watery villages in Guangzhou. Before a race kicks off in a village, dragon boats from other villages are invited to the village to demonstrate their skills, rather than to compete for the winner; this is known as "Chenjing". From the first to the 20th day of the fifth month on the lunar calendar, a demonstration is given daily, and all villages take turns in holding such demonstrations.
Xintang, a village in Zengcheng, presents the most spectacular dragon boat race demonstrations. On the day of "Chenjing", the gatehouse of the village is elaborately decorated, colorful banners flutter along the river, and all families treat visitors with glutinous rice dumplings and steamed cakes. Dragon boats from other villages would come, each identified by their respective village flags. After reporting to the command center, the boats would stage a performance on the river in the midst of thunderous rolls of the drums and gongs, and the oarsmen would chant in unison over the crest of every wave – "hai, hai", loud enough to turn the river upside down.
"Chenjing" is usually followed by "Doubiao", which involves rather complex procedures. It takes a couple of days to for the boats to compete with one another to determine a ranking of the boats involved. The best-performing one receives a roasted suckling pig, the top prize.
In some villages, the competition is much simpler. All participating boats would gather at a certain location, usually at a wide, straight and gentle stretch of the river. The star line is marked by a row of upright floating wood, and the "dragon gates" are identified by two oars of the same color as the boats. A cannon shot signals the start of the race. These procedures are common among sizable dragon boat races.
According to the local folklore, any dispute during a dragon boat race is to be arbitrated by the old dragon in the Renwei Temple at Bantang, Liwan. Ordinary dragon boats are supposed to give right of way to the old dragon who has come in their way; hence, there is a local saying to the effect that whenever the dragon boat from Bantang comes out, it's all pomp and ceremony.
All materials marked with "source: English.gz.gov.cn" on this website (including but not limited to text, photographs, audio and video materials) are the copyrighted property of Guangzhou International (the official website of Guangzhou Municipality). Without prior authorization from Guangzhou International, any media, website, organization or individual shall not transmit, interlink, distribute or republish such materials in any form. Any media and website authorized to republish such materials shall mark them with "source: Guangzhou International (English.gz.gov.cn)". Infringement of these copyrights will result in legal action.